"...Mesmerising...You can't help but be impressed by Origamibiro's audio-visual mechanics. A Revelation." - NME

Origamibiro are: Tom Hill (composer and producer) Andy Tytherleigh (live multi-instrumentalist) and Jim "The Joy of Box" Boxall (video artist and film maker)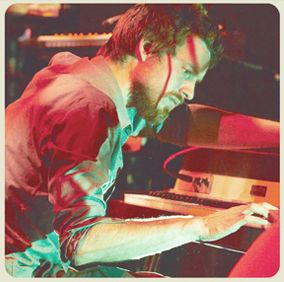 "An absolutely beautiful journey through subtle, delicate and, above all, gloriously introspective music." - www.smallfish.co.uk

Originally started out as a solo music project by Tom Hill in 2007 with the release of Cracked Mirrors & Stopped Clocks, Origamibiro has also become a live audio-visual collective involving multiple instruments, hi and lo-fi technologies and an array of unorthodox objects and mixed media.

"London's finest post-electronica classical combo of today" - pennyblackmusic

Predominantly a classical / electric guitarist, Tom also a composes soundtracks for film and tv as well as dabbling in a bit of audiovisual art installation and graphic design.
"Symphonic dimensions. Extraordinary live performances." - fluid radio

Formerly one half of the electronica duo, Wauvenfold, with Noel Murphy (aka Visual Display Unit / Bury & Disinter) Tom has released 3 albums and 2 EPs under a variety of aliases, gaining a reputation among the likes of Björk, John Peel, the BBC and the Super Furry Animals.
"The fall of a typewriter key, the pluck of a double bass, the ripping of paper - all these tiny, transient moments become the notes with which Origamibiro compose a world of sound around them... And it's an extraordinary world: strangely calming in its slow revealing; startlingly beautiful in its climatic chiming; strong enough to cut through pixelated ennui" - dummy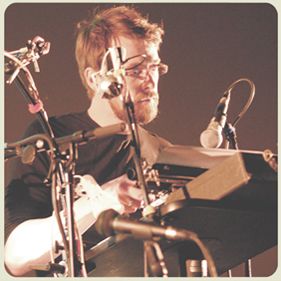 The Joy of Box (aka Jim Boxall) has been working with video and moving image for over a decade and has worked with artists such as DJ Krush, Theo Travis, Susumu Yokota, Raphael Lozano-Hemmer, Do Make Say Think and Active Ingredient amongst others. Jim's work addresses the inherently anomalous process, practice and performance of live visuals: how it works, how it is interpreted, how it is misunderstood, where to start and where to stop.

"Video artist Jim Boxall manipulates and weaves an intriguing and original experience, the mixture of scored and improvised music set to video projections is a performance of eloquence and intensity."
- Jazzwise

Using a growing list of tools, objects and contraptions such as laptops, spy cameras, OHPs, books and typewriters, Box's work forms the visual element to the trio's performances, videos and music productions and has been described by Jazzwise as a man who "manipulates and weaves an intriguing and original experience. The mixture of scored and improvised music set to video projections is a performance of eloquence and intensity."
"What Origamibiro & The Joy of Box have on stage together is something totally organic. Utilising all manner of electronic technology and combining it with the flick of a dog eared book or the heavy fingered tap on an old typewriter they achieve a highly emotive and immensely satisfying experience on all levels" - Oh Francis Magazine
To view more work by The Joy of Box, including his blog, click
here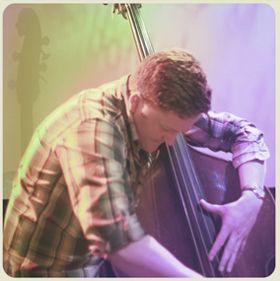 "Origamibiro & The Joy of Box are part of that new breed [that] bring the best of new technologies into their sets and their sounds, enlisting looping riffs and electronic wonders and tonight they showed much of the best that such an approach can bring." - BBC Manchester Online
Andy Tytherleigh, aka, Shmoov / Hubtone / Debaser Boy, is a man on most musicians' radar in Nottingham due to his outstanding ability to perform at a professional standard in almost any genre of music.
"A truly beautiful blend of the glitchy electronic soundscapes of the likes of Fennesz with some stunning Spanish and classical acoustic guitar... A really beautiful meeting of electronic trickery and live acoustic sounds." - roadrecs.com review of Cracked Mirrors & Stopped Clocks

First and foremost, a double bassist, Andy can turn his hand to any instrument and play. From Jazz to Folk to Dance to Experimental, Andy's experience as a live performer has taken him all over the world, sometimes playing to crowds in the thousands. With such a rich and professional background, what Andy brings to the mix raises the bar and pushes the envelope that little bit further.
"Straddling the middle ground somewhere between electronic and acoustic, [Origamibiro] have a high level of intimacy and an organic quality that is contrasted and often mixed with digitally created tones and broken electronic sounds. At times the contrast is distinct but at others they compliment each other beautifully, the warmth and fragility of the guitar melodies amplified by just the right amount of discrete glitchy electronic effects." - igloomag.com

Photography: Ursula Kelly - www.flukstudios.com